Description
BONUS OFFER: FREE PaperSaver Slimline with FlushMinder Purchase (1 per customer per order – limited time – US orders only)
---
FlushMinder G4 Automatic Dual-Flush Kit fits Standard Flapper Valve Toilets
(for top flush push button toilets, see the FlushMinder TF here)
No Hands Flush Prevents Toilet Handle Cold Flu Virus Transmission
NEW Generation 4 Version: Similar to G3 with Improved Motor Design and Scratch Resistant Glaze Finish
Computerized Automatic Dual-Flush System Senses for Half or Full Flush
Quick and Easy DIY Install on Most Standard Lever Flush Toilets
Fully Adjustable and Programmable for Different Tank Sizes and Flush Quantity
Includes 6 AA Standard Alkaline Batteries for up to 1 Year – 5,000 Flushes
Each Unit Fully Tested and Certified: Detection Range, Flush Timers, Actuator Lift Force
Ideal for High-Use Toilets, Children, Elderly, Disabled and Potty-Trained Cats . . . Yes, Cats ! ! !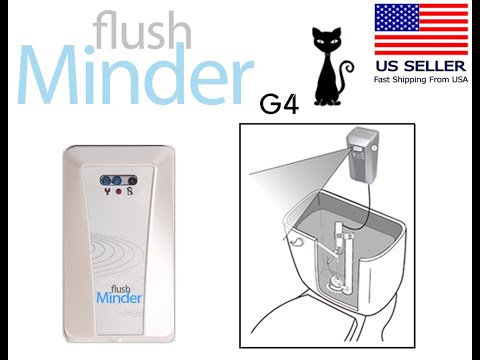 FlushMinder G3 Installation (same for G4) – YouTube
Video will open in a new window
Using the eBay App? Paste link into a browser window:
[isdntekvideo]


Benefits of Installing a Hands Free Automatic Dual Flush Kit:
Cleanliness: No touch forces regular flushes and helps mitigate the spread of germs
Versatility: Fits standard "flapper valve" toilets, does not interfere with manual flush handle
Water Saving: Automatic dual flush computer timer senses for half or full flush as required
Affordable: Retrofit kit is a much cheaper alternative than purchasing a brand new toilet
For additional information and troubleshooting tips, see the FlushMinder FAQ . . .
This exclusive and innovative dual-flush toilet conversion system fits most standard lever handle toilets with a "flapper valve" and is FULLY AUTOMATIC. Upon toilet use, a computerized human-presence sensor measures the "time-at-the-toilet" and then automatically activates a motorized flusher inside the tank for a half-flush (#1) or full-flush (#2) as required.
One automatic full flush cycle also occurs weekly to keep the bowl refilled when there is no usage . . . great for empty apartments or other vacant bathrooms to keep the sewer gases from escaping an empty bowl.  For additional manual Timed Flushes, an inexpensive clock mechanism can be attached to the top of the detection head with double-sided tape.  Then an hour hand or multiple hands  can be added to pass over the detection eye and trigger 2 or more manual flushes per day (see pic).  This simple modification is great for situations where the presence detection doesn't trigger reliably such as with a cat moving around on the seat or an elderly or disabled person not getting or staying in front of it long enough.
Installation and setup is quick and easy with minimal tools, NO TANK REMOVAL or advanced plumbing skills required.
Runs on standard AA alkaline batteries (included) for up to 1 year or 5,000 worry-free flushes. Saves water and improves sanitation – perfect for children, the elderly or any high-use bathroom area where flushing delinquency is a problem.
Also makes a great cat potty training accessory for autoflush after use . . . see online for cat potty training aids and information, plus note the reviews and YouTube videos from customer experiences. Results can vary widely, so specific cat potty training setup and instructions are NOT INCLUDED and NOT GUARANTEED.
NOTE: Each automatic presence sensor is precisely calibrated and tested in a factory test lab (see pic) before shipment to detect from 0 – 31.5 +/- 4.0 inches (80 +/- 10 cm). Be sure that your toilet and bathroom configuration will allow a suitable installation within this range and with no obstructions.
Additional setup information and troubleshooting tips are available on our Troubleshooting and Support FAQ page and ALL FlushMinder Replacement Parts are available separately upon request.